Reimagining Our Workspaces Breakfast
BID Lead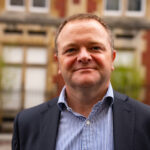 A debate around the future of our offices post-pandemic.
Project Type
CONNECTING & REPRESENTING BUSINESSES
From an increased prevalence of digital technologies to day-to-day desk division and reception screens created by the pandemic, the Reimagining Our Workspaces Breakfast looked at how our offices could be managed differently to meet the evolving demands of working practices.
For this special event, Insider brought together business leaders, key stakeholders and experts for a question and answer-style debate. This included Head of Redcliffe & Temple BID, Steve Bluff.
The debate looked at the role of the key infrastructure projects in the region's economic bounce back, as well as a discussion surrounding the key moments for South West businesses as they rebuild. More specifically, the topics discussed included the future of hybrid working, FOMO for home workers and fewer workers in offices on Monday and Friday.